Lopatcong Man Allegedly Stole Timber from Municipal Property
Lopatcong Police Arrest Local Man Accused of Stealing Wood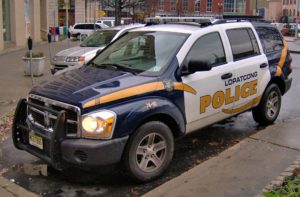 A Lopatcong, NJ man was arrested after allegedly stealing timber from a municipal property and then reselling it. The theft crime suspect is Jeffrey A. Burns, a 54-year-old man who lives on the first block of North First Street in Lopatcong Township in Warren County, New Jersey. He was allegedly caught trying to steal wood from a property located in the Delaware Park area of Lopatcong on October 18. At that time, Burns was ordered to stay off the property or risk being charged with trespassing. However, he allegedly returned three days later and stole 2.5 cords of wood.
The Lopatcong Police Department investigated the theft and quickly identified Burns as the main suspect. Detectives then got an arrest warrant for Burns and eventually placed him under arrest. Lopatcong Police Chief Jason Garcia later issued a statement about the case and said that Burns stole around $450 worth of timber from the municipal property. Burns then allegedly resold the timber as firewood for an undisclosed amount of money.
Theft Crime Charges in Lopatcong, New Jersey
Burns faces criminal charges for theft of movable property. Theft charges in New Jersey are governed by N.J.S.A. 2C:20-1. A person can be charged with theft under the statute if they unlawfully take, or exercise control over, the movable property of another person with intent to deprive that person of the property. The NJ criminal statute defines "movable property" as any property that has value and that can be physically moved.
The penalties for theft of movable property in New Jersey are determined by the value of the property stolen. In many theft cases, Warren County prosecutors seek maximum penalties because the offenses are considered "crimes of moral turpitude." A person accused of stealing property valued at more than $500 can be charged with a third degree felony. Since Burns allegedly stole property valued at $450, however, he has been charged with a fourth degree felony. Fourth degree crimes in New Jersey carry potential penalties of up to 18 months NJ State Prison, heavy fines, and an order of restitution to the victim.
Free Consultation with Experienced Theft Lawyers in Lopatcong, NJ
If you've been arrested and charged with theft of movable property, theft by deception, or any other theft or fraud offense in Warren County, NJ, it is imperative that you speak with a qualified criminal defense attorney as soon as possible. The criminal lawyers at the Tormey Law Firm are prepared to assist you with your theft case and help you avoid the most severe penalties. Contact us today to schedule a free consultation.