Vernon DWI Defense Lawyers
DUI Defense Attorneys in Sussex and Warren  County, New Jersey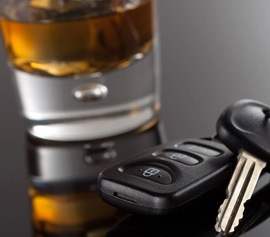 A DWI or DUI can drastically impact your life. Some of the consequences will be paying hefty fines, no longer getting around independently while your license is suspended, dealing with increased insurance rates and DMV surcharges, ignition interlock devices and potentially spending time in jail. When it comes to driving and alcohol or drugs, the public policy is New Jersey is clear: the punishments are stiff and the courts cannot simply dismiss the charges because it was a one-time mistake. It just doesn't work that way. That's why if you are charged with a DWI, DUI, refusal to provide a breath sample, or underage DWI, you need to contact the highly experienced DWI defense attorneys at the Tormey Law Firm to discuss your case. Our seasoned New Jersey DUI defense lawyers attack the State's case against our clients in Sparta, Vernon, Hackettstown, Phillipsburg, and throughout Sussex and Warren County to achieve the best possible results. Contact our offices today at  973-755-1695 to receive your cost-free consultation.
Here is a review from one of our many satisfied DWI clients: "Saved me from a DUI. HIGHLY recommended"
"I highly recommend Travis and his law firm. A year ago I got into an accident,blood drawn, DUI. I knew I was facing life changing charges. Travis was able to get me off with no charges! When the judge reached a verdict, he mentioned the "good work of my attorney" that prevented them from proceeding with my prosecution. It is safe to say Travis saved my life and if your in a tough spot I highly recommend Travis to be your attorney."
DWI Defense Lawyers in Sparta New Jersey
If you have been arrested and issued a traffic summons for driving while intoxicated or driving under the influence in Sussex County or Warren County, you have options to fight your case. The first and most important step should be to call the knowledgeable DWI/DUI attorneys at the Tormey Law Firm to learn about the different types of DWI/DUI offenses, potential consequences, defense strategies, and collateral issues. For example, our clients are shocked to learn that there are no exceptions to a license suspension in New Jersey due to a second or subsequent DUI. In other words, whether it's a first offense, second offense, third offense, or subsequent offense, your license may be suspended completely and there is no exception whatsoever to "just drive to work" or "just drive to school" during the suspension period. For a first offense, the rules have changed so the suspension applies until you install an ignition interlock device in your vehicle at your own expense. Additionally, charges for a first DWI with higher blood alcohol concentration entail enhanced penalties. Repeat offenders also face more punishments, including higher fines, longer license suspensions, and lengthier jail terms.
The DWI and DUI defense attorneys at our firm have handled literally thousands of DWI/DUI cases in municipal courts throughout New Jersey, including Warren and Sussex county. Additionally, we have attorneys on staff who are licensed operators of the Alcotest 7110 machine and certified to administer field sobriety tests. In other words, we know how to analyze DWI/DUI cases to determine if the police had probable cause to stop your vehicle in the first place, whether or not the field sobriety tests were conducted appropriately, and if the Alcotest 7110 machine was calibrated and used properly when you provided your breath sample.
DWI's are considered traffic offenses in New Jersey and are not classified as criminal offenses.  Despite the distinction, a DWI conviction can completely overturn your life and leave you with significant repercussions that could influence your social and professional livelihood.  Aside from these effects, a conviction remains on your driving record and leads to other issues down the road, including significant fines and assessments owed to the State and Court.
Contact our Hackettstown DUI Lawyers for a Free Consultation
If you have been accused of driving while intoxicated or driving under the influence, don't hesitate to contact the experienced Warren and Sussex County DWI/DUI attorneys at the Tormey Law Firm to discuss your case. One of our highly knowledgeable DUI defense lawyers will be happy to answer all of your questions and discuss potential defense strategies to fight your New Jersey DWI charges.