Pre-Indictment Conferences (PIC)
Pre Indictment Conference Hearings in Sussex and Warren County NJ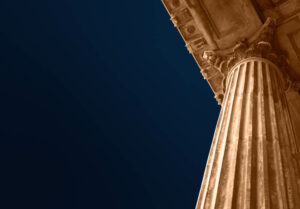 Before sending the evidence to a grand jury in a felony criminal case in New Jersey, the prosecutor may offer the defendant an initial plea agreement along with discovery at a pre-indictment conference. This is a key step in the various proceedings and steps of a criminal case.
What Occurs at a Pre Indictment Conference
A pre-indictment conference is where serious plea bargaining occurs. Because prosecutors want to reduce their caseload and save court resources, they try to resolve cases by offering incentives for a guilty plea. They may offer a sentence on the lower end of the range of possible sentences or dismissal of lesser charges. By the time the pre-indictment conference occurs, the prosecutor has already had the case reviewed by investigative units that evaluate the documentary and testamentary evidence, such as police reports or witnesses. So, the prosecutor's offer depends on how strong the evidence is against a defendant, meaning whether they can successfully obtain a conviction for the charges. If the evidence is not likely to yield a conviction, the prosecutor can dismiss the charges or seek to downgrade the charges to lesser offenses, which would bring you to municipal court. A prosecutor's decision to dismiss or offer a plea bargain depends on how severe the crime or crimes are, the strength of the evidence to prove those charges, and the defendant's criminal record. If they have prior convictions, the likelihood of a prison sentence is stronger than if the defendant has no previous convictions.
The prosecutor also turns over evidence against you at the pre-indictment hearing to influence you to accept the offered plea deal. Even though a prosecutor is obligated to turn over evidence against you, whether the evidence helps or hinders your defense, the prosecutor presents just the evidence that hurts you at this conference. At this point, your attorney can use their skills to push for a better deal, advise you to accept the deal, wait longer before taking the deal, and explore your other options for handling the case to best serve your interests.
Do I Need a Lawyer for a Pre Indictment Conference?
At this stage, it is highly beneficial to have an experienced defense attorney to help you if you are a defendant in a criminal case. A criminal defense lawyer can advise you throughout the case, but especially at the pre-indictment conference when you could potentially resolve your matter. They can inform you about the chances of getting a better offer or whether to take the plea, wait for a better offer, wait for more negotiations over the plea, or take your chances with a jury at trial. The discovery may help with the decision. If your attorney knows what the prosecutor has against you, they know what the grand jury and trial jury will review and can assess the strength or weakness of the case. However, the prosecutor may not give you all the evidence they have, just the weightiest evidence for influencing you to take the plea offer.
Factors for Consideration at Your Pre-Indictment Conference
What also happens at the pre-indictment conference is assessing the Pre-Trial Intervention Program (PTI) opportunity for you. If you are eligible for PTI or Drug Court, you may want to take that route. However, you must be a first-time offender of a nonviolent third- or fourth-degree crime, with second degree options in certain exceptional cases. And if this is not your first offense, but your crimes involve drug abuse, you may consider Drug Court. After going through either program, you end up with a dismissal of the charges. So, your discussion with your attorney at the pre-indictment conference may revolve around your eligibility for either program. You also want to know how to apply. Since the prosecutor and judge must approve your application, you want to work with your attorney to prepare a persuasive application, proving eligibility and ability to complete a program.
Seeking Admission into the PTI Program at Your Pre Indictment Hearing
If you are eligible for a diversionary program, like the Pretrial Intervention (PTI) program, you might want your attorney to help you apply and push for acceptance into the program. If this is your first offense and you complete the program, PTI allows you to avoid prison and a conviction. Your attorney may need to convince the prosecutor that you are a good candidate for the program, so long as you have not committed crimes that disqualify you for the program or have not completed PTI or a similar program before. Completing PTI, you do not have to accept a plea bargain. You can enter into the program rather than agree to conviction. If you do not qualify, you must consider your other options.
Considering a Plea Agreement during Pre Indictment Proceedings
If a conviction leads to a long prison sentence, you may consider taking a shorter sentence in a plea agreement. However, you may be giving up your right to appeal your conviction and if the charge is severe enough, you may be forfeiting your right to clear your criminal record after completing the sentence by expungement. If you do accept the prosecutor's offer or the bargain they reached with your lawyer, you must plead guilty. Also, you may get a lighter sentence if you do take it. If you do not take it, you can authorize your attorney to negotiate a better offer or reject the plea and hope for a better offer down the line.
If you pass on the offer, the prosecutor submits your case to the Grand Jury for an indictment. The Grand Jury reviews the prosecutor's evidence and returns an indictment or does not. If indicted, you are on your way to a trial. But your attorney can continue to negotiate before trial to try and get a better deal. Then, if your case does reach the trial stage, they can craft the most compelling arguments for your defense and contest the prosecution at every turn.
Contact Criminal Attorneys Defending Clients at Pre-Indictment Conferences in Belvidere and Newton NJ
Contact a highly experienced criminal defense attorney on our team immediately after you know that there are charges against you or an investigation is underway. With decades of combined experience handling all aspects of the criminal process in New Jersey, we can ensure the state does not infringe on your rights. We often appear for Pre-Indictment Conferences to tirelessly represent our clients in Newton, Sussex County, Belvidere, and Warren County. Contact 973-755-1695 if you would like immediate assistance from our staff in a free consultation.