Phillipsburg Drug Charges Lawyers
Drug Crime Defense Attorneys in Sussex and Warren County,  New Jersey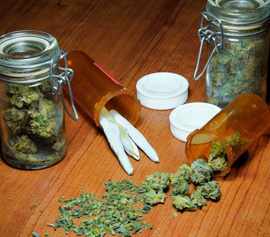 Criminal charges related to possession of controlled dangerous substances (CDS), whether it's marijuana, cocaine, heroin, or prescription pills are taken very seriously by the criminal justice system in New Jersey. Essentially, whether you are charged with possessing a dime-bag of marijuana or kilos of heroin, you are facing heavy fines, substantial jail time and a loss of driving privileges. Additionally, you can be charged separately for any drug paraphernalia you have, for simply being high in public, or for not turning over the alleged drugs to the nearest law enforcement officer. Further, possession a controlled dangerous substance in a motor vehicle is a separate traffic violation that subjects you to a two-year license suspension.
The bottom line is that drug offenses in Warren and Sussex County carry stiff penalties. If you are charged with a drug-related crime, the NJ drug charges defense attorneys at our criminal defense firm are highly experienced in defending cases like yours. We regularly battle for clients in courts in Sparta, Frankford, Franklin, Hackettstown, and throughout Sussex and Warren County, and we will put our knowledge and skill to work for you.  Contact our offices today at 973-755-1695 to discuss your current situation and receive a free initial consultation.
Drug Possession and Distribution Lawyers in Franklin NJ
Some of the common drug related charges in New Jersey include: Cocaine Possession & Distribution Charges; Possession of Marijuana under 50 Grams, N.J.S.A. 2C:35-10(a)(4); Possession of Marijuana over 50 grams, N.J.S.A. 2C:35-10(a)(3); Heroin Possession & Distribution, Marijuana Distribution, N.J.S.A. 2C:35-5; Possession of Drug Paraphernalia, N.J.S.A. 2C:36-1; Possession of Synthetic Marijuana, N.J.S.A. 2C:35-5.3c; Prescription Drug Charges, N.J.S.A. 2C:35-10.5; Possession of CDS in a Motor Vehicle, N.J.S.A. 39:4-49.1; CDS Near or On School Property, N.J.S.A. 2C:35-7; Failure to Turn Over CDS to Law Enforcement, N.J.S.A. 2C:35-10(c); Loitering or Wandering in a Drug Zone, N.J.S.A. 2C:33-2.1(b); and Leading a Narcotics Trafficking Network, N.J.S.A. 2C:35-3.
In addition to the charges related to the possession of drugs, it is also a crime to possess drug paraphernalia. The New Jersey Criminal Code broadly defines the term "paraphernalia" and literally anything that is used for concealing, preparing, ingesting, inhaling or otherwise introducing into the human body a controlled dangerous substance can be considered paraphernalia. Other drug charges relate to distribution of controlled dangers substances and most charges related to possession with intent to distribute drugs such as heroin, cocaine, marijuana, and prescription drugs depend on the amount of the controlled dangerous substance alleged to have been involved. Moreover, a leader of a narcotics network who conspires with two or more other people to unlawfully manufacture, distribute, transport or dispense a controlled dangerous substance, is guilty of a first degree crime that carries a life sentence.
Contact Vernon Drug Charges Defense Attorneys for Answers
No matter what type of drug charges you may be facing in Sussex or Warren County New Jersey, the criminal defense team at our firm is ready to fight for you. From determining whether or not there was a legal motor vehicle stop or a valid basis to conduct the search that yielded the controlled dangerous substances, the defense attorneys at our firm will meticulously analyze your case to develop the best defense strategy to fight your drug charges in court. If you've been charged with a drug crime in Sussex or Warren County, New Jersey, contact us today to take the first step in defending your case.