Police Investigate Domestic Violence Stabbing Incident in Phillipsburg, NJ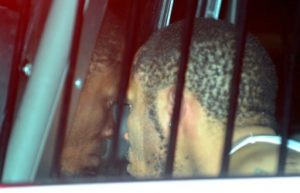 Police recently arrested a man accused of stabbing a woman in Phillipsburg, New Jersey.
The suspect is a 24-year-old man from Somerville in Somerset County, NJ. According to law enforcement, the suspect got into an altercation with the victim in a possible domestic violence incident. (The suspect and the victim reportedly have kids together.)
The suspect allegedly stabbed the 32-year-old victim on South Main Street in Phillipsburg and then fled the area. Police officers later apprehended the suspect near railroad tracks in the area of Elizabeth Avenue in Phillipsburg, NJ. It did require a bit of effort by police, however, as the suspect reportedly tried to make a run for it.
The victim sustained injuries to her upper torso and head and required hospitalization. Fortunately, she was expected to survive her stab wounds.
The Phillipsburg Police Department is actively investigating the stabbing incident. At this time, detectives have not yet determined exactly what precipitated the assault.
Meanwhile, the suspect has been charged with numerous crimes, including aggravated assault, resisting arrest, and possession of a weapon for an unlawful purpose.
After being placed under arrest and processed, the suspect was remanded to the Warren County Jail.
For more information about this case, view the NJ.com article, "24-Year-Old Accused of Stabbing Woman in Phillipsburg."