California Men Get Prison for Heroin Trafficking in Sussex County, NJ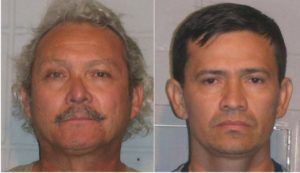 Two California men are headed to prison after pleading guilty to heroin trafficking and cocaine trafficking in Sussex County, New Jersey.
The suspects, two truck drivers, were busted in separate stops at the Interstate 78 weigh station located in Stewartsville, NJ.
Warren County, NJ. New Jersey State troopers stopped the suspects on the highway and found a massive quantity of heroin: 36 kilograms believed to have a street value of roughly $2.8 million.
The NJ Attorney General's Office indicated that the heroin seized during the traffic stop may have netted more than $10 million after being prepared for distribution.
One of the suspects, a 40-year-old Los Angeles resident, reached a plea agreement with prosecutors and pleaded guilty to possession of heroin with intent to distribute. The very serious drug crime carried a potential penalty of 20 years in NJ State Prison, but prosecutors agreed to recommend a sentence of 10 years behind bars. Now a judge has approved the plea deal and sentenced the suspect to a term of incarceration of 10 years.
Elie Honig, the director of the NJ Division of Criminal Justice, issued a press release stating that the main suspect "was driving addiction in New Jersey" by funneling deadly narcotics into the state.
The second suspect, a 59-year-old resident of Chula Vista, CA, was apprehended by NJ State troopers at the I-87 weigh station. According to authorities, the suspect had 64 kilograms of heroin and 10 kilograms of cocaine in his possession when police busted him. The illegal drugs reportedly had a value of approximately $6.7 million.
The Chula Vista suspect ultimately avoided trial by reaching a plea deal with prosecutors and pleading guilty to drug distribution charges. He is expected to be sentenced to 10 years in prison.
For more information about these cases, check out the NJ.com article, "Truckers Caught on I-78 Admit Hauling Millions of Dollars Worth of Drugs."