Hopatcong NJ Cop Faces Simple Assault Charges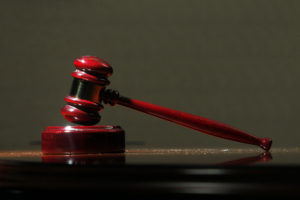 A Hopatcong NJ police officer has been charged with simple assault after he allegedly slapped someone during a violent confrontation at police headquarters.
The attack occurred at the Hopatcong police station on November 17, 2016. The suspect, a Hopatcong NJ cop, reportedly struck a man who was playing a joke on him. The prankster was wearing a bunny suit and sounding an airhorn. At some point, the suspect allegedly became angry and assaulted the victim.
The assault on the victim was reportedly captured on video. The victim's brother was holding a camera and filming the altercation when it happened. The video footage is said to show the suspect, and another police officer, approaching the victim as he turned himself in at police headquarters. (The victim was wanted on an outstanding arrest warrant.) The victim's brother then used the Internet to post the video on various websites.
The victim's brother was initially charged with numerous crimes stemming from the incident, including criminal charges for harassment, resisting arrest, and obstruction of justice. Those charges were later dismissed by prosecutors.
The victim subsequently filed a complaint, which prompted an internal affairs investigation by Hopatcong police. After the investigation, the suspect was charged with simple assault.
Now the suspect could face jail time. He recently appeared in Hopatcong Municipal Court for a hearing.
While the criminal charges are pending, the suspect has been placed on administrative duty for the Hopatcong Police Department.
For more information about this case, view the NJ.com article, "Cop Who Slapped Bunny-Suited Prankster Due in Court."