Sussex County Defaced Firearm Defense Lawyers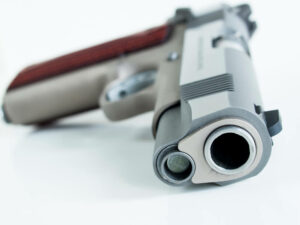 Defacing a firearm or possessing a defaced firearm are serious offenses under New Jersey law. Regardless of one's intent to use or not use the defaced firearm, those charged with these offenses face significant penalties if convicted. Defacing a firearm is one of several offenses covered by New Jersey's Graves Act, which imposes mandatory minimum periods of parole ineligibility and limits the terms that a prosecutor can agree to in a plea agreement without compelling circumstances. Due to the serious implications of a charge for possessing a defaced firearm or defacing a firearm, it is imperative that individuals who are accused of these offenses seek the representation of a skilled, knowledgeable, and experienced weapons defense lawyer.
With years of experience negotiating plea agreements with prosecutors and defending our clients' freedom, reputation, and other interests in court, our team of trusted criminal defense lawyers have a depth of knowledge in New Jersey gun law and all the relevant factors and options in cases of clients charged with defacing a firearm or possessing a defaced firearm. Our lawyers have been able to achieve superior results for clients facing Graves Act gun crimes in Newton, Vernon, Frankford, Pohatcong, Sparta, Hackettstown, Belvidere, North Warren, and throughout Sussex County and Warren County. Call 973-755-1695 to take advantage of a free initial consultation with one of our attorneys.
Meaning of a Defaced Firearm under N.J.S.A. 2C:39-1
A defaced firearm refers to a firearm that has been intentionally altered in some way from its original form and design. New Jersey law specifically defines "deface" under N.J.S.A. 2C:39-1 as removing, altering, covering, or destroying any distinguishing identification mark or number like the maker, model, designation, or manufacturer's serial number on a firearm. There are many reasons why these actions are criminalized, including that such actions undermine the state's gun control laws and can facilitate even more serious and dangerous crimes if the defacement is committed to conceal evidence in a violent crime.
Defaced Firearm Possession Offense and Penalties in New Jersey
The charge for possessing a defaced gun is explained in N.J.S.A. 2C:39-3. This law states that anyone who knowingly possesses a defaced firearm may be charged with a fourth degree offense. If an individual knowingly buys, receives, conceals, or disposes of a defaced firearm, they may be charged with a fourth degree offense. To be found guilty of possession of a defaced firearm, the prosecution must prove the following three elements beyond a reasonable doubt: (1) you were in possession of a firearm; (2) the firearm was defaced; and (3) your possession was knowing.
An individual possesses a defaced firearm when they exercise more than just a fleeting ability to control the weapon. They possess a defaced gun knowingly when they are aware of it or they are aware that there is a high probability that they possess a firearm. If convicted, these offenses are punishable with up to 18 months in prison and fines of up to $10,000.
Consequences for Defacing a Firearm in New Jersey
Defacing a firearm by altering, covering, removing, or destroying an identification mark or number is a third degree offense in New Jersey that is punishable with 3 to 5 years in prison and fines of up to $15,000. It is important to note that this offense does not just apply to handguns, rifles, and shotguns. Under New Jersey law, a firearm includes any handgun, rifle, shotgun, machine gun, automatic or semi-automatic rifle, air guns, spring guns, or any weapon that fires a bullet or projectable ball, slug, or pellet with enough force to hurt someone.
Defaced Firearms, Graves Act and NJ Parole Ineligibility Terms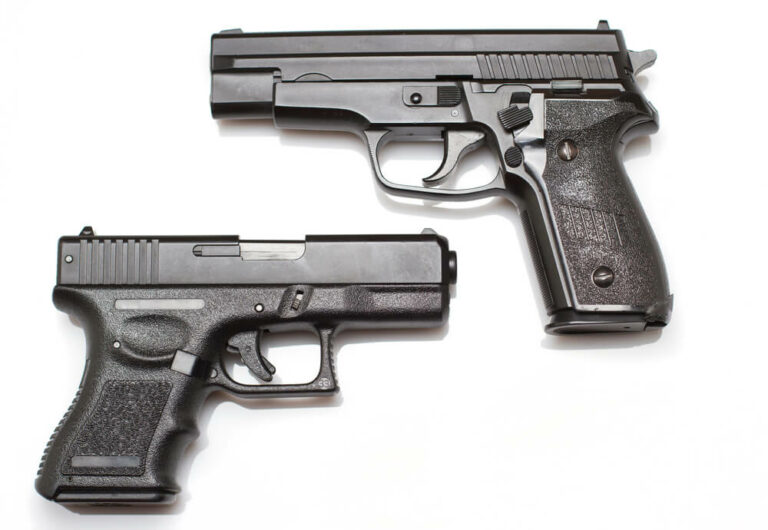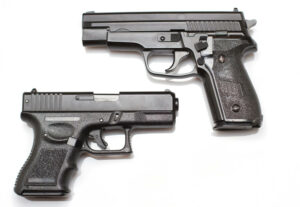 Defacing a firearm is a violation of the Graves Act, which is a New Jersey law that imposes mandatory minimum terms of parole ineligibility for those convicted of certain weapons related offenses. The Act applies to even first time offenders. Whether or not the firearm was loaded is immaterial in regards to the Graves Act's application. The mandatory minimum term of parole ineligibility under the Act is the greater of one half of the time sentenced or 42 months.
It is possible to seek a waiver under the Act, though difficult to obtain one. Obtaining a waiver will allow the defendant to seek Pre-Trial Intervention, explained below, and permit the prosecutor to reduce their plea offer, resulting in less prison time and a shorter period of parole ineligibility. It is never wise to face any criminal charges without the assistance of a criminal defense attorney; however, weapons offenses in New Jersey involve nuanced laws and enhanced penalties, making it even more important to be represented by a skilled criminal defense attorney who is experienced in handling gun cases.
Eligibility for the Pre-Trial Intervention Program
New Jersey's Pre-Trial Intervention Program (PTI) is a diversionary program wherein first-time offenders of certain offenses may avoid a conviction and time in prison by serving a period of non-custodial prison instead. In order to be eligible for PTI if charged with defacing a firearm, an offense covered by the Graves Act, the defendant must obtain a waiver as described above.
Contact New Jersey Defaced Firearms Defense Lawyer
A competent New Jersey criminal weapons defense lawyer is a crucial component in obtaining the best possible result for a person accused of defacing or defaced firearm offenses and any other gun-related offenses for that matter. We have the abilities and experience necessary to prepare a thorough defense and advocate for you in Allamuchy, Stillwater, Hopatcong, Phillipsburg, Greenwich, and other towns in Sussex County and Warren County NJ.  For more information and a complimentary consultation of your case, please call 973-755-1695 today.