Sparta Woman Arrested for Allegedly Possessing Heroin, Cocaine in Wayne NJ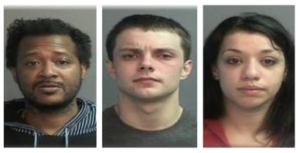 Wayne New Jersey police recently arrested a Sparta NJ woman and two other people on suspicion of illegal drug possession.
The suspects were arrested during a traffic stop near the Kohl's department store located on the border of Wayne and Pequannock Township. Two Wayne NJ patrol officers pulled over the suspects' vehicle after observing the car driving in excess of the speed limit.
While talking to the driver, a 26-year-old Sparta NJ female, the police officers reportedly noticed drug paraphernalia in clear view inside the vehicle.
During a subsequent search of the motor vehicle, police allegedly discovered 44 glassine bags of heroin hidden under a floorboard. The bags were reportedly stamped with the word "Gucci."
Additionally, Wayne cops allegedly found crack cocaine in the suspects' car.
The three suspects have been charged with numerous drug crimes, including possession of heroin, possession of cocaine, possession of drug paraphernalia, and possession of narcotics in a motor vehicle.
After being placed under arrest and processed, the suspects were remanded to the Passaic County Jail. They were to be held at the Passaic County correctional facility until a bail hearing.
For additional information about this case, read the NJ.com article, "3 Arrested After Cops Find 44 Bags of Heroin Under Floorboard of Car."